Hearty without meat!
If you are a vegetarian, you waive the hearty taste. This was what I thought before I got a vegetarian. But I was wrong and now I know so much hearty vegetarian recipes. For example, this little Tartelettes. The dough tastes like hearty cookies and is crispy with a nuttily note. The chess cream inside makes me dream of the wonderful landscape in Italy with the great taste of Grana Padano and pine nut. Crunchy carrots and healthy beetroot round out the taste.

Ingredients:
(4 Portions)
50 G Walnuts
1 Bunch Basil
200 G Spelt Flour
1 tsp Baking Soda
1 Egg
100 ml Rapeseed Oil
300 G Beetroot
300 G Carrots
120 G grated Grana Padano
120 G Crème fraiche
60 G Pine Nuts
20 ml Vinegar
Salt and Pepper
Recipe
1) Grind walnuts and basil.
2) Mix the grinded walnuts and basil with flour, backing soda, egg, 80ml oil and salt and then knead together to form a smooth dough.
3) Shape the dough, grease well the cups (use e.g. muffin cups without paper insert) and Line the oven tin with the batter, press to the tin, and chill in the refrigerator for at least 1 hour.
4) Cut the carrots in thin slices and cook them for about 10 min. Also cut the beetroot in thin slices.
5) Mix the remaining oil (20 ml) with vinegar, salt and pepper. Then put the carrots and beetroots in the mix for 30min on each side.
6) Puree grana Padano, crème fraiche and pine nuts. Add salt and pepper.
6) Strike the cream on the tartelettes. Add the Vegetables. Put at the end the rest of the cream on the tartelettes.
7) Bake the tartelettes at 180°C (top and bottom heat) for about 25 minutes.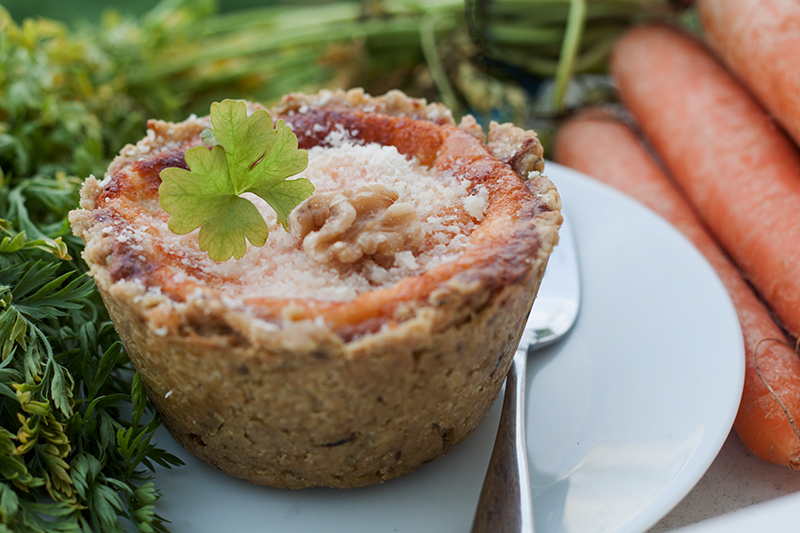 Do you like beetroot? Let me know! :).
xx Nico Treeman