LOW BUDGET PHOTOGRAPHY TIPS THAT YOU HAVE TO KNOW
[I]Wow, when I wrote my first Low Budget Photography article, I was at first worried, that people will laugh about it. I thought that my photography tips would be to be too strange. Too embarrassing because they are out of the ordinary. I actually used kitchen tools. However, the article was and still is incredibly well received! I would never have expected that. I am still totally happy about that. Ashton Kutcher himself shared my tips & they were shared on big international websites. At first the said article was titled "Better photos with the help of household items" but I didn't want it to have such a heading. That's why I renamed it. My motivation back then was to show that you can produce great photo effects with so ordinary things. As my own family isn't rich, I always had to be creative. Today I am fortunate about that! Even for my christmas photography tips I've used some low budget photo hacks.[/I]
Ad
---
[I]As you like all my photography tips so much, I have some new photography low budget tips for you today! Like the last ones, these photography tips will cost you nearly nothing but they will give you some fantastic effects. Clear the stage for today's photography low budget tips![/I]
---
LOW BUDGET PHOTOGRAPHY TIPS: LIGHT STRING
[I]Light strings are perfectly suitable for nice photos as I recently showed you in the article "Photography tips for Christmas pictures". They create beautiful light effects that can look particularly impressing on portrait shots. However, light strings are also a brilliant photography tip to economically create a great Bokeh! You can spice up each boring background with just a single light string* in no time. Additionally, a light string is ideally suitable as a solution for disturbing picture elements. For example, if there is an ugly object in the background, you can simply make it invisible by using a light string. With an average price of 2,50 Euro per string, this photography tip is simply unbeatable! And in addition more than low budget![/I]
It's not only photos that you can upgrade with a light string. After use it is excellently suited as decoration for a Christmassy glass bell.
[row] [column md="4″ ]
[/column] [column md="4″ ]
[/column] [column md="4″ ]
[/column] [/row]
---
Ad
[do_widget id=text-39]
LOW BUDGET PHOTOGRAPHY TIPS: ALWAYS READY RAINDROPS
[I]A further brilliant photography tip is the picture frame in combination with the spray bottle. This brilliant photography tip costs less than five Euro and is my absolutely favourite photography tip! Especially now in winter you don't go out as willingly as in summer due to the cold. If you nonetheless want to make nice shots with great raindrops, you can simply apply this tip. This way your flock – if you have one – and you yourself stay in the dry![/I]
In the article "Low budget photoshooting" I explain you in detail how to use this photography tip. Besides that you see more photos, that were done applying this photo tip.
[row] [column md="4″ ]
[/column] [column md="4″ ]
[/column] [column md="4″ ]
[/column] [/row]
---
Ad
[do_widget id=text-39]
LOW BUDGET PHOTOGRAPHY TIPS: SPARKLERS AS (THE SINGLE) LIGHT SOURCE
[I]Another photography low budget tip that I have already presented to you recently in my category "photography tips" is the one with the sparklers. With this economical light source you don't only achieve an incredibly harmoniously light but also a great glitter effect. The sparks create a mystical glitter in the pictures which looks particularly beautiful in the Christmas time. Especially if you use sparklers as the single light source, you get great shots! If you dare, you can of course combine this photography tip with artificial light. However, for this you need to be experienced, as it happens quickly that the great look of the picture is totally destroyed.[/I]
My personal advice: Now, during the Christmas time, it is easier to get sparklers than at other times. Therefore, you should buy them on bulk now!
[row] [column md="6″ ]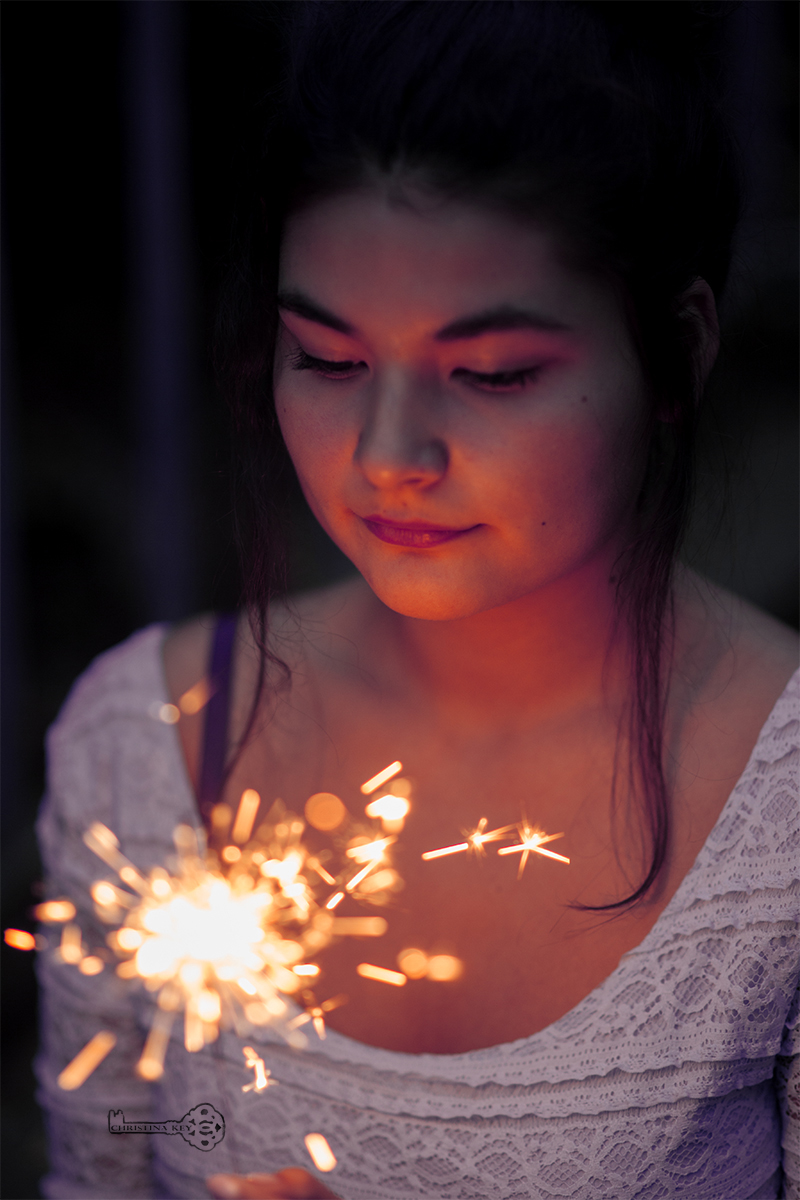 [/column] [column md="6″ ]
[/column] [/row]
---
Ad
[do_widget id=text-39]
LOW BUDGET PHOTOGRAPHY TIPS: FREELENSING
[I]The most economical photo tip that I'm presenting today is called freelensing. For this photo tip you don't need anything. You've got everything that you need for this visual style already! A simple lens is enough, for example the Canon 50 mm 1.8 – which is a great lens as I have shown you in the article "Photography Tips for amazing Portraits!". You can read how to apply this effect in the linked article.[/I]
Insider knowledge beforehand: For this photography tip you don't need to use a lens from your camera brand.
[row] [column md="4″ ]
[/column] [column md="4″ ]
[/column] [column md="4″ ]
[/column] [/row]
---
Ad
[do_widget id=text-39]
LOW BUDGET PHOTOGRAPHY TIPS: LOW BUDGET DARKENER/BRIGHTENER
[I]As I have already revealed to you, light is the most important element in photography. Without light you can't make a single picture. You can place and use it in the most diverse ways. For example, you can manipulate it softly with a low budget darkener/brightener. Thought the different uses of this photography tip you can achieve totally different results. You can clearly see that by comparing the (100% unedited) photos of me: The three photos were taken with the identical aperture number, ISO value and exposure time. Nevertheless they are different! The photo in the middle was made without any gadget. The one on the left on the other hand was made darker with the help of a darkener. [/I]
---
[I]The result of this is that my cheekbones are emphasised, among others. Contrary to this, this photo on the right was made brighter with a brightener. It intensifies the light reflections in my eyes, gives me a soft glow and conceals the wrinkles around my mouth. The whole left side of the face becomes slightly brighter. This photography tip is quickly created and at the same time extremely effective, not only for portraits![/I]
Check out my article "Low Budget Darkener/Brighter", where you'll be able to see how easily it was to make this photo tip, including a video!
[row] [column md="4″ ]
[/column] [column md="4″ ]
[/column] [column md="4″ ]
[/column] [/row]
---
Ad
[do_widget id=text-39]
PRACTICAL PHOTOGRAPHY TIP FOR BEAUTIFUL FOOD AND PRODUKT PHOTOS: PHOTO BOX WITH A BACKGROUND SYSTEM
[I]You can get a cheap photo gadget by building a photo box that includes an integrated background and underground system. You can use it for product photos as well as for food photos. It is even ideally suited for flatlays! Most likely you have all the products that you need already at your home. This photography gadget is one that I wouldn't want to miss again because I use it weekly for my blog photos! Watch the video and find out how to create this photo tip.[/I]
---
PHOTOGRAPY LOW BUDGET GADGET FOR BEAUTIFUL EYE REFLECTIONS & AN EVEN LIGHT: DIY REFLECTOR
[I]Some of you might already know this photography gadget. If not, you really missed something! With this photo gadget you conjure way better photos for nearly nothing! Instead of buying a reflector you can easily and quickly build one yourself! Everything you need is some aluminium foil*, a piece of cardboard and tape*. You wrap some aluminium foil or a rescue blanket around the cardboard, cutting board, etc. and tape it down on the back. Your ultra-cheap but very effective photography gadget is ready! If you use aluminium foil the reflected light you get is rather cool. On the other hand, a rescue blanket* gives you a rather warm light.[/I]
You can also use a white fabric or garment, if you don't have any aluminium foil or rescue blanket at hand. It also reflects well and conjures a great reflection in the eye on top. (See photo on the left below)
[row] [column md="4″ ]
[/column] [column md="4″ ]
[/column] [column md="4″ ]
[/column] [/row]
---
Ad
[do_widget id=text-39]
LOW BUDGET PHOTOGRAPHY TIPS: WALLPAPER SAMPLES AS BACKGROUND OR UNDERGROUND
[I]Who doesn't love 1001 possibilities, whether with food, clothes or with photography. With this photography gadget you get endless possibilities for free or very cheaply. Thanks to a cooperation I have many different wallpaper samples at home*. I rolled those up neatly in my photography corner. With those patterns I have many possibilities for photographic backgrounds or undergrounds. They are particularly suited for various food photos like for the Freak shake with fruits or product photos for various cooperations, e.g. the Kneipp campaign.[/I]
Often you get samples of wallpapers or PVC flooring either for free or for a low pecuniary in various hardware stores.
[row] [column md="6″ ]
[/column] [column md="6″ ]
[/column] [/row]
---
Ad
[do_widget id=text-39]
PHOTOGRAPHY LOW BUDGET GADGET FOR BOKEH LOVERS: GLASSES FOR INTERESTING PICTURE EFFECTS
[I]After I've shown you in this article how to conjure a great swirly Bokeh, I've got the next impressive photo tip for you! With a glass, for example like this one*, you can provide your photos with that certain something! Thanks to different glasses you can create stunningly beautiful picture effects that jazz up nearly each photo significantly. This photograph tip is particularly suited for photos with a light string, colourful street lights as in the photo story with Christina Raphaella Dirr, or Christmassy photos in general. The practical aspect: this tip enables you not only to make great photos but it also provides you with great glasses for Christmas and New Year's Eve in which you can serve a creamy Christmassy cocktail for example! The application of this photography tip looks like this: You hold an ornate glass directly in front of your lens. By the way, even a simple yogurt glass can do a lot! Depending on the angle of the light you can achieve fantastic picture effects in no time![/I]
You get tasty wow effects if you serve Quiche in a glass! In my opinion this is ideally suited for New Year's Eve or the next birthday.
[row] [column md="4″ ]
[/column] [column md="4″ ]
[/column] [column md="4″ ]
[/column] [/row]
---
Ad
[do_widget id=text-39]
LOW BUDGET PHOTOGRAPHY TIPS: INDIVIDUALISED BOKEH WITH SELF-MADE TEMPLATES
[I]Attention Bokeh lovers! Today something wonderful happened. I was standing in the kitchen and was looking for suitable equipment. And then the aluminium foil made it in front of my lens. Its conformability and tear resistance (if you don't buy the cheap one) is simply perfectly suited to create an individualised Bokeh! You simply cut the desired form into the foil, tighten it around the lens and start taking pictures. For this it is best to use a lens with a low aperture value like this one*. Only then the effect becomes attractive.[/I]
---
[I]Depending on the diameter of the lens you need smaller or larger Bokeh forms. I would recommend to start with rather small forms because those always do better according to my experience. You can make them larger step by step; however, once the form has been cut you can't make it smaller anymore.[/I] [row] [column md="4″ ]
[/column] [column md="4″ ]
[/column] [column md="4″ ]
[/column] [/row]
---
Ad
[do_widget id=text-39]
PHOTOGRAPHY GADGET FOR A DREAMY PICTURE LOOK – LOW BUDGET PHOTOGRAPHY TIPS: STOCKINGS
[I]This photography gadget is particularly useful for a dreamy picture look. I am talking about stockings, which you can get at every supermarket checkout for a few euros. The ladies among us probably own this photography gadget already among various panties, bras or a lace body. When you pull a simple stocking in nude or black over the lens you get a wonderfully dreamy picture look that reminds a little of various vintage photos. This photography gadget is surely also suited for taking pictures of beautiful people in little clothing. As I have planned to take a few elegant Boudoir photos anyway, this photo tip is ideal. I am curious what the result will be! Interested models (preferably with experience) for this photo project can write me an email to info@christinakey.com – I am looking forward to your requests![/I]
You can vary the effect by holding the stocking closer or farther away from the lens. It also looks interesting when you rip the stocking a little. This allows you to determine the part of the picture that should get the vintage look.
[row] [column md="4″ ]
[/column] [column md="4″ ]
[/column] [column md="4″ ]
[/column] [/row]
---
How did you like today's photography low budget tips? Which tip did you like best? If I would be you, I would directly sign up for my newsletter so that you won't miss anything anymore! By the way, I am already working on part 3 of my low budget photograph tips series.
---
 More photography articles: